"Sun Tunnels"

hommage to Nancy Holt





"Sun Tunnels"
, Le-Chaux-de-Fonds, 34ºC
Kama Sokolnicka, 2020
PL Za każdym razem, gdy widzę gdzieś – na placach zabaw albo przy budowach lub remontach dróg – betonowe rury i dreny, myślę o Nancy Holt i jej Sun Tunnels z 1976 roku. Z pewnością jest wiele osób, które przypominają sobie tę pracę widząc różne przydrożne sytuacje lub prześwity w betonie układające się niemal w gwiazdozbiory. Również w ten sposób Nancy Holt sprowadziła kosmos na ziemię.
Czasem myślę też o 28.03.1983 Wilhelma Sasnala z 2010 roku.
"Sun Tunnels" to

swobodne

, domowe* nawiązanie do tych prac, stanowiące również komentarz do bieżących, jednostkowych działań i starań w czasie, gdy świat szuka światła w tunelu.
EN
Each time I see somewhere – at the playgrounds or road construction sites – theconcrete pipes and drainage, I think of
Nancy Holt and her Sun Tunnels
from 1976. Surely, there are many persons who can recall this work while passing similar roadside scenes or clearances in concrete that remind one of star constellations. And so Nancy Holt brought the cosmos to the ground also in this way. Sometimes it also reminds me of
28.03.1983 by Wilhelm Sasnal
from 2010.

"Sun Tunnels" is a free, domestic* reference
to the work of the artist, as well as a commentary to ongoing individual actions and efforts in times when the world is looking for the light in the end of the tunnel.
"Sun Tunnels"
, Gap, 32ºC
Kama Sokolnicka, 2020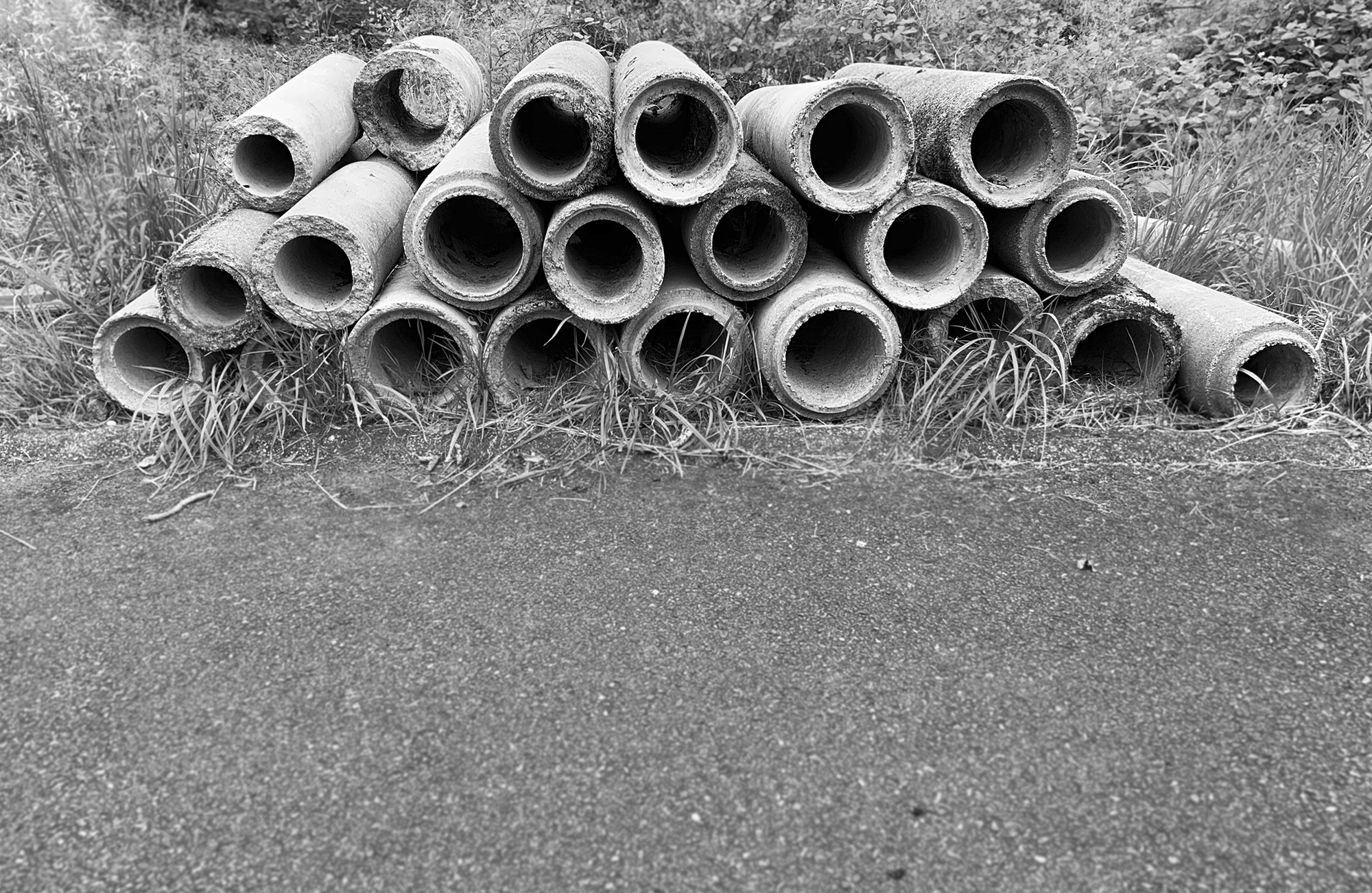 "Sun Tunnels"
, Luxeuil-des-Baines, 27ºC
Kama Sokolnicka, 2020
"Sun Tunnels"
, droga krajowa nr 24, Korfu, 25ºC
"Sun Tunnels"
, state road no. 24, Corfu, 25ºC
Kama Sokolnicka, 2020
"Sun Tunnels", Zucarello, 36ºC
Kama Sokolnicka, 2020

"Sun Tunnels"
, Cantal, 29ºC
Kama Sokolnicka, 2020
"Sun Tunnels", Serre-Ponçon, 32ºC
Kama Sokolnicka, 2020

* obecnie mieszkam i pracuję w drodze, w zbudowanym wspólnie z partnerem mobilnym domu. Pożegnawszy miejskie mieszkanie i studio, po pierwszym lockdownie zaczęliśmy przemierzać Europę. Niebieski van stanowi pokój dzienny z kuchnią i sypialnią, będąc jednocześnie przestrzenią do pracy – to modyfikowalna kapsuła wielofunkcyjna, samowystarczalny statek. Operując zredukowanymi środkami w zredukowanych warunkach, kontynuuję praktykę twórczą. Podążając za ciepłem, transmituję je przez RADIATOR.

* currently, I live and work on the road, in a mobile home built together with my partner. Having bidden farewell to a city flat and the studio, we began to traverse Europe after the first lockdown. A blue van constitutes a living room with the kitchen and bedroom, being the work space at the same time – it's an adjustable multifunctional capsule, the self-sufficient ship. Employing reduced media and operating in reduced conditions, I continue my art practice. Following the warmth, I transmit it via RADIATOR.